Stop hurting your hands with chemicals while cleaning your dishes, these gloves are a permanent solution to all your cleaning problems. You won't have to buy another new sponge ever again. The Bristle gloves makes it easy to clean each and every spot with no effort.
PRODUCT DETAILS
● Made of silicone & 100% BPA free.
● High-Temperature resistance
● Protection from germs and chemicals
● Stretchy & durable silicone
● Comfortable and fits to any hand
● Dimensions: 35cmx 15cm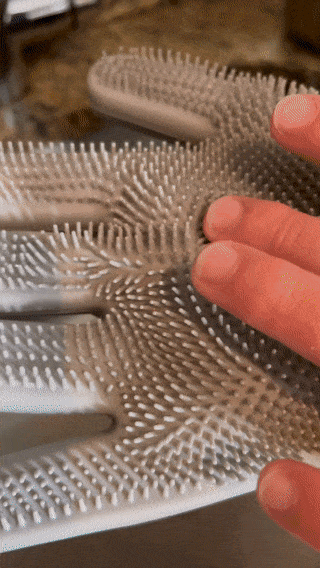 FREQUENTLY ASKED QUESTIONS
Q: Why should I buy a glove and not just use a sponge?
A: First, your hands will thank you. Water and chemicals are constantly hurting them while you clean, and this is not dermatologically safe. Second, how many sponges have you thrown away in your life? And how many did you have to buy again? Where they fun to use?. If the answers were: - A lot, -A lot, -Absolutely not, then you need these gloves

Q: How do I clean these?
A: You can either put them in the dishwasher or safely put them in boiling water on the stove.